It's amazing how the tech industry is coming up with more and more fascinating ideas for kids' tech gadgets. These days, one can easily select their presents from a wide range of tech products available on grand retailers like Amazon and Target, etc. for children.
However, if you ask your child about selecting a tech gift for themselves, they would definitely choose a 'smartphone'.
Well, it's funny how kids these days can't wait to get their hands on an iOS/Android of their own. But no matter how much they insist on buying a cellphone, you simply cannot afford to gift them one. 
According to the American Academy of Pediatrics, it is not healthy for young children to indulge excessively in smartphones as they need hands-on social interaction and face-to-face communication with peers and caregivers to enhance their learning process. Then what could be the ideal tech gift for your child, if not a smartphone? 
Let's find out. Here, we have come up with the most amazing tech devices for children that support their cognitive growth and enhance their learning process.
The best part is that these gadgets do not require any parental supervision, which certainly means you can easily do all your chores while your kids are busy exploring them.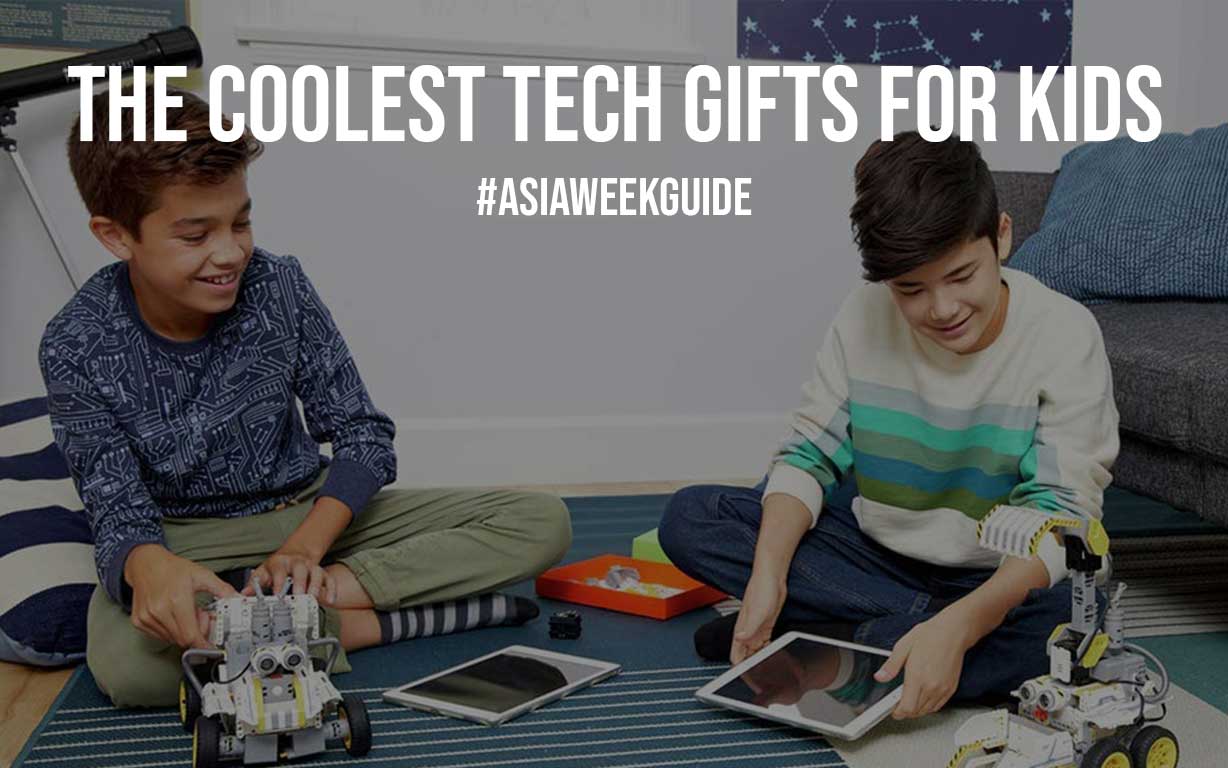 Below are our top five tech gift picks. Let's take a look!
The Easiest Tablet
Amazon Fire HD 8 Kids Edition
Amazon's child-oriented tablets are the most reliable, affordable, and easy to handle on the market.
In 2021, Amazon has acknowledged that the term "kid" covers a wide range of ages, therefore, it now offers the buyers two versions—2020's regular version and this year's Fire HD 10 Kids Pro ($200).
The Fire HD 8 version is simply the best for young kids. Although the Pro edition can seem to be really big for your 6-year-old, still, it might be worth the investment if your child needs a speedy processor for Lego apps or Rabbids Coding, etc. 
Both these versions come up with one year's subscription to Amazon Kids+, which makes it easy for parents to monitor the usage, filter content categories, set time duration, etc.
For more details, you can always check different retailer websites and check out the reviews, product descriptions, and user ratings before placing your order. 
But first, make sure that you're connected to high-speed internet so that your research doesn't get interrupted in between. In fact, you can also double the shopping fun by subscribing to CenturyLink internet plans at extremely affordable rates, starting from $50 per month.
CenturyLink offers a high-coverage, robust, and reliable internet service to all its users which makes all types of downloading, browsing, and surfing convenient for them. 
Price: $140 At Amazon
Also Read: Black Friday TV Deals 2021: Amazon, Best Buy & more
Best Kids Phone
Google Pixel 4A and Pixel 4A 5G
If you're a Pixel family, chances are high that your kid will get the same phone as you, because Pixel 4A is still a great Pixel phone. Its compact 5.8-inch body is a great fit for smaller hands, and you will have not have to worry excessively about your child shattering its plastic body.
As the phone has been specifically designed for kids' use, the features are easy-to-use and navigate.
Some of its best features include its OLED screen that still looks good, the long-lasting battery that lasts all day, and the frequent software updates that you will receive until August 2023.
However, you need to remember that this 'new' phone is a bit hard to find in stock these days.
Price: $349 At Target & $350 At Amazon
Best Remote Play Device
Amazon Glow
The Amazon Glow is a wonderful 14-inch-tall freestanding tower that sheds a light screen onto a hard surface that comes with a touch mat. Any of your remote family members can the Glow app on their device, and enjoy drawing, reading, and playing games together on the go.
The Glow also provides you with an ultimate gaming experience that comes with physical pieces termed as "Glow Bits" by Amazon.
However, the Glow requires a little bit of setup and supervision in the beginning. But once you are done with it, the device becomes really fun to use, especially with your remote relatives, family friends, or even your child's classmates.
Imagine your child learning with his/her grandparents while you peacefully sleep, or do the dishes. Sounds pretty amazing, right?
Price: $250 At Amazon
Best Kid Videophone
Facebook Portal Go
Facebook Portal Go provides its users with a Smart Camera and Smart Sound that highlights pick-up children's voices amid background noises and still focuses on their tiny faces, even when they move around.
As it's portable, your children can carry it around the house to show various app features and their activities or even read their favorite stories before bed.
The only downsides of the app are the short battery timings, and the need to have a Facebook or WhatsApp account to access it. 
Price: $199 At Target & Amazon
Also Read: Minimalist Phones Try to Give Users What They Need—Not Always What They Want
Conclusion
Being a parent, sometimes it becomes difficult to take out time from your busy routine for your house chores, gardening, or even self-care.
However, with these wonderful gadgets, now you can easily engage your children in healthy learning activities while you complete your everyday tasks.
These tech gifts will not only enhance their cognitive skills and learning cycle, but also make them very happy to receive a unique, and different present! 
So, what are you waiting for? Place your order now and add lots more fun. But first, don't forget to ensure having a stable internet supply. You certainly don't want any lagging between browsing through different shopping sites, isn't it? 
For example, you can reach out to Spectrum internet to get their high-speed, secure, and affordable internet packages for nonstop browsing, streaming and downloading, etc.
Call now at Spectrum phone number and get more information about their amazing internet packages and deals.